A new, diverse, and bright future for women thought leaders starts here.
"I always thought it was celebrities and famous people who could make a living speaking. I never realized someone like me could do it."
Lauren had no idea that a career in public speaking was possible until she heard Mic Drop founder Jess Ekstrom speak in fall 2019. Shortly after hearing Jess, she read about Mic Drop Workshop in Chasing the Bright Side, which inspired her to pursue her own speaking career outside of the speaking she'd done at her corporate job. 
Soon after, Lauren enrolled in Mic Drop Workshop to learn exactly how to become a paid speaker by sharing her own story, not her company's. 
"When the pandemic hit, the course kept me going and got me really excited. I started working on my keynote, on my branding, and how to get booked for opportunities. Mic Drop helped me build everything out and learn the logistics of running a side business. I leaned on the Facebook group a ton to get feedback on my title and my website."
Months after finishing Mic Drop Workshop, Lauren gained experience through several free gigs. 💰 Soon, she was ready to take things to the next level with Mic Drop Academy to find even more gigs for more money. Over those 9 weeks, Lauren clarified her keynote message, aligned it with her branding, and graduated ready to expand her speaking business.
"We were a very close-knit group and bounced ideas off of each other. People helped me see things I never would have considered."
As a Mic Drop Academy graduate with a refreshed keynote and strong brand message, Lauren scored her first paid gig and is now actively pursuing her dream of speaking full-time. Her recent clients include North Carolina State University, Girl Scouts of America, and the American Marketing Association.

🎤  HER BIGGEST MIC DROP TAKEAWAY?
"If you want to speak, you can. Anybody can get paid to speak. Anybody that has life experiences and a story worth telling that can impact somebody else can do this."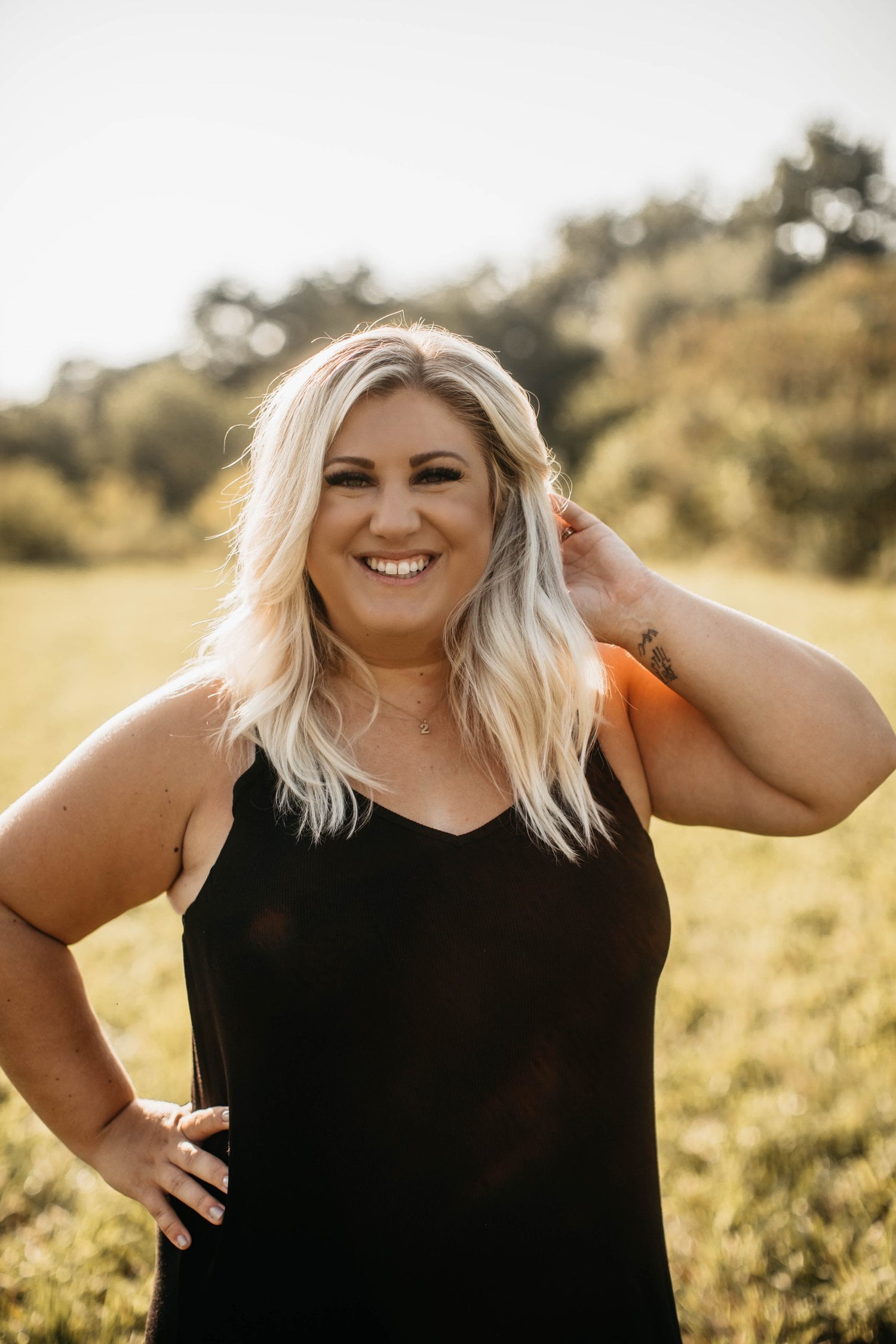 "I have been able to land some pretty major workshops and conferences. My biggest one so far was a $10,000 keynote plus expenses for this coming December."
In February 2020, Ashton enrolled in Mic Drop Workshop with the goal of starting a public speaking career to complement her growing enneagram business. After landing several workshop-style events, she was ready to take the leap and enroll in Mic Drop Academy by Fall. "I know I wanted to go in to those bigger keynote-type events" she said.
Compared to the self-paced experience of Mic Drop Workshop, Ashton loved the hands-on nature of Mic Drop Academy.
"I loved Mic Drop Academy," Ashton said. "I wanted to attend because it was so much valuable knowledge and I made great connections with people."
During her time in Mic Drop Academy, Ashton restructured her existing website to reflect her speaking business and learned the logistics of building a speaking career. "It really helped me learn how I'm supposed to pitch myself, what am I supposed to charge, what are the systems I need to have in place. That's where the true value was for me."
Now, Ashton is getting booked for those bigger events that she dreamed of. "I have been able to land some pretty major workshops and conferences. My biggest one so far is a $10,000 keynote plus expenses for this coming December," she said. "I've had more people reach out to me now than the other way around."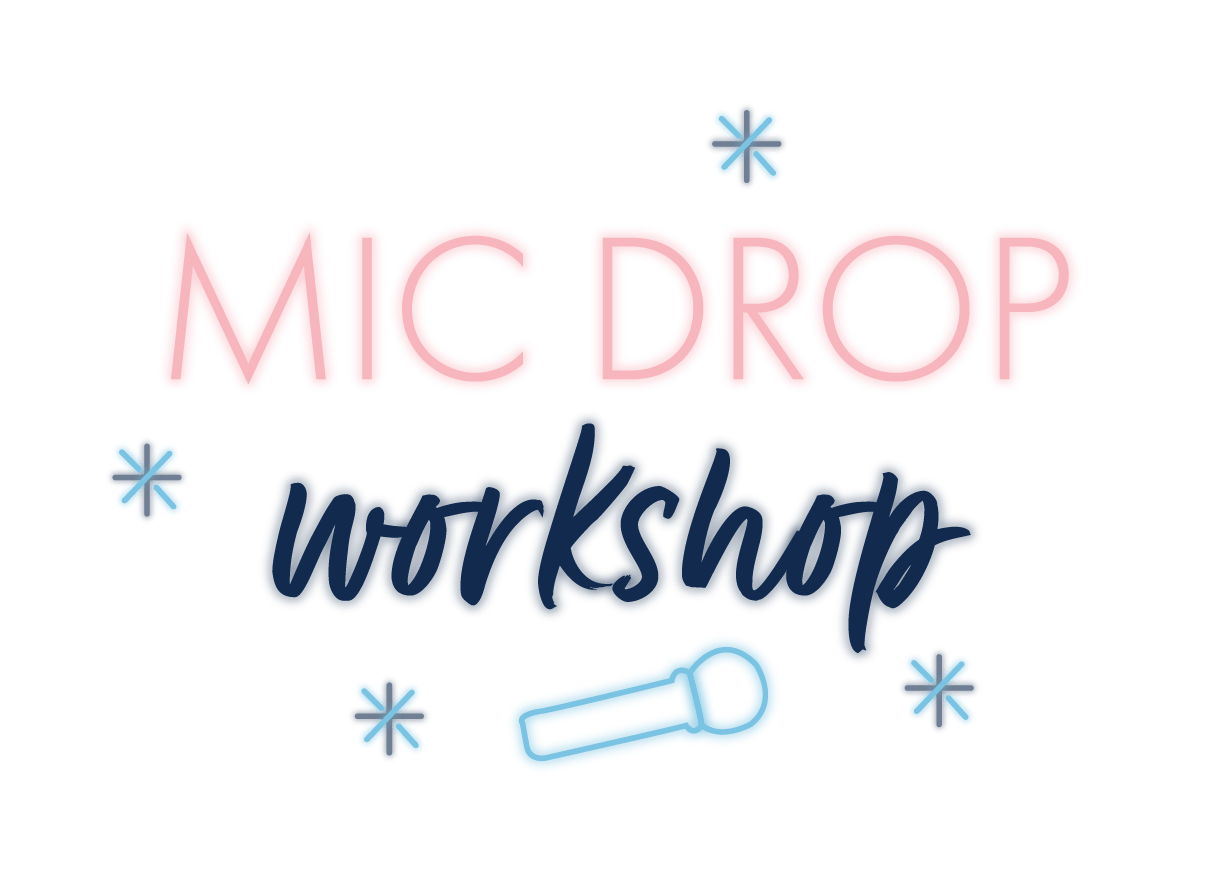 SUSAN FOCHS
Founder & CEO at Operation Not Alone

JACLYN DEGREGORIO GALLO
Speaker, Author, Coach
CORTNEY EDMONDSON LANTIGUA
Speaker and Founder of You Can Heal With Us
BRITTANY PIPER
Speaker and Founder of The Healing Hub
STACY BERNAL
Author, TEDx Speaker, Change Instigator: See Stacy Speak
LYNSY KARRICK-WIKEL
Speaker, Coach. & Founder of Lynsy Leads
SUE SEXTON
Author, Speaker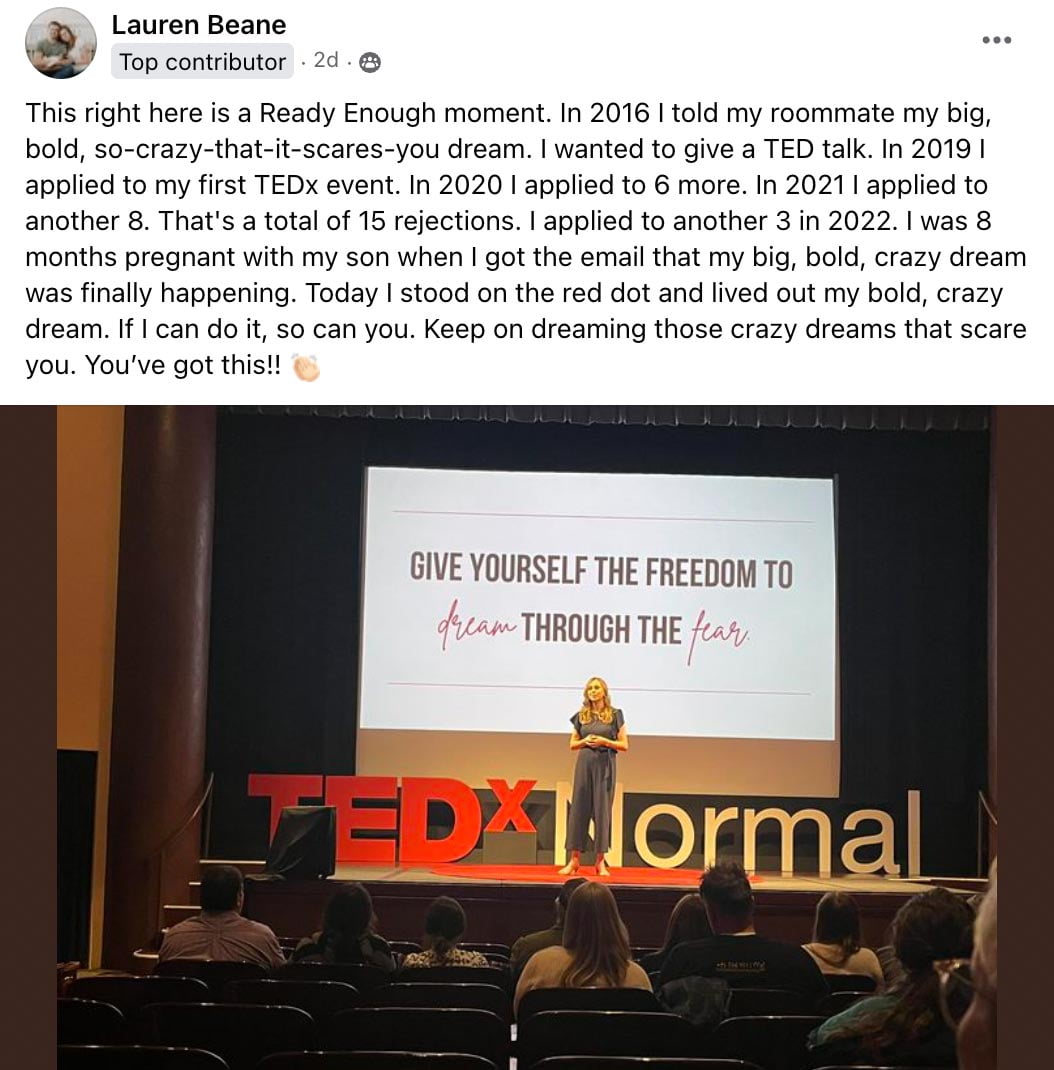 KELLY NEFF
Speaker, Coach, and Founder of TOM's Board + Together Overcoming Mountains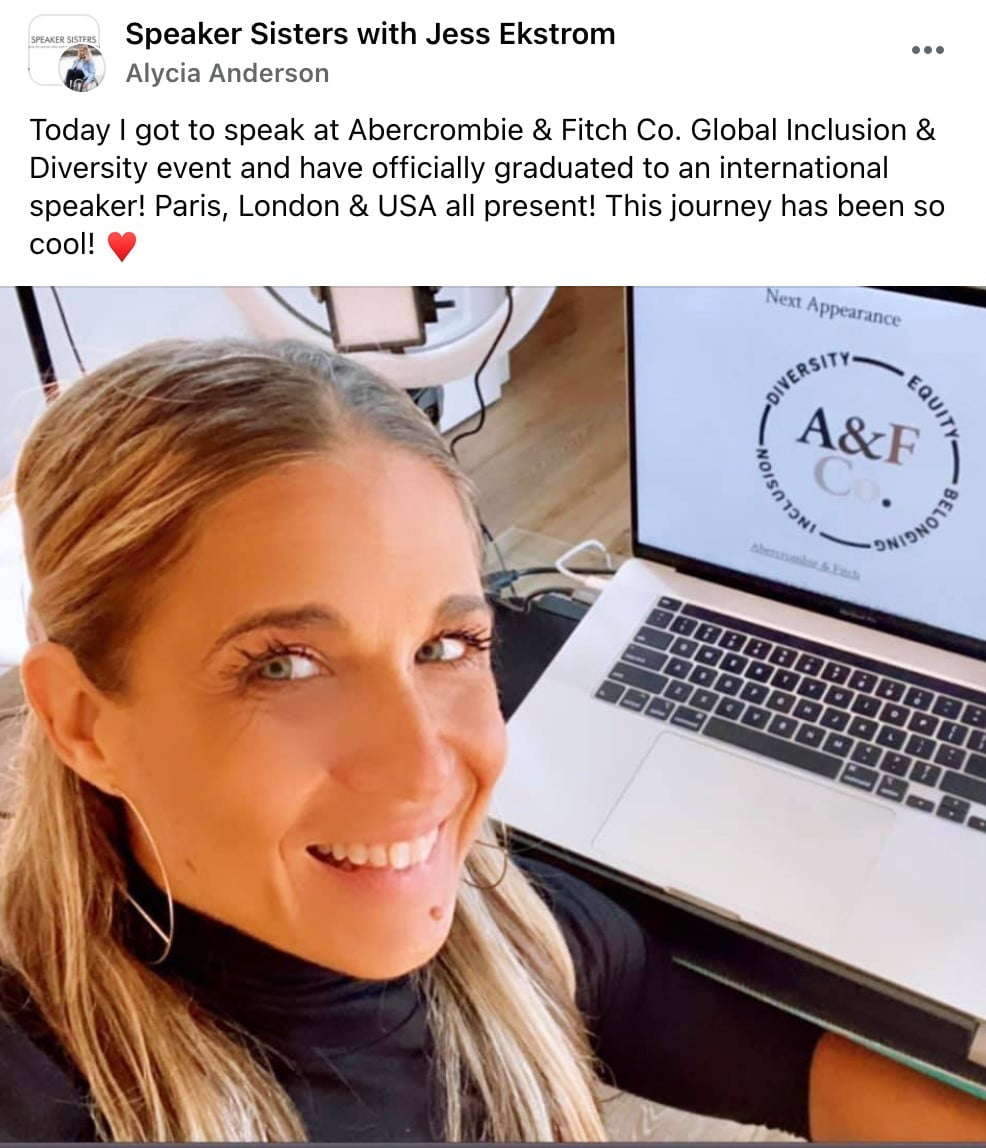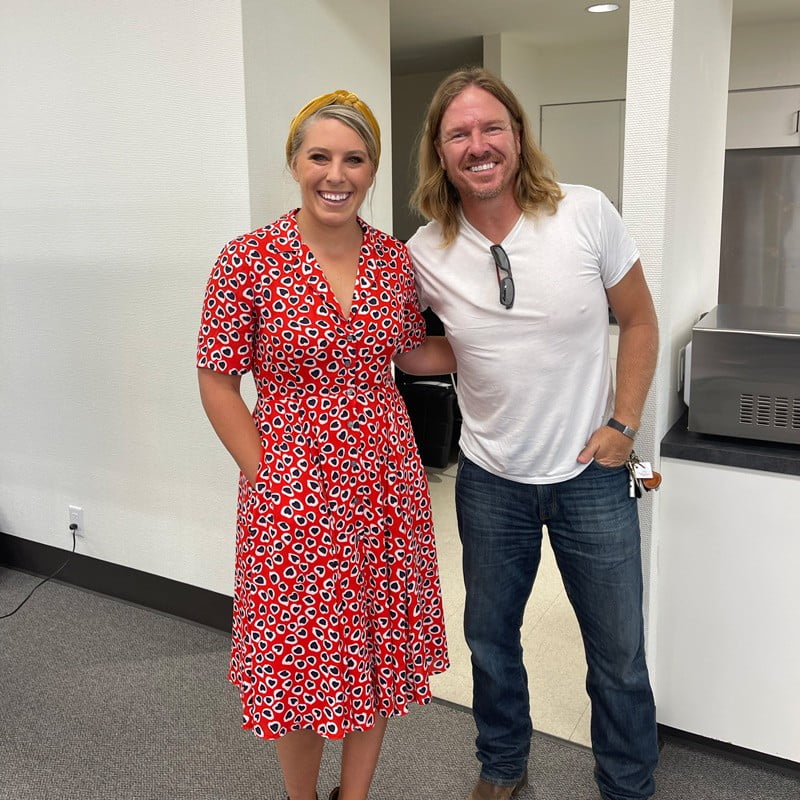 "

Jess Ekstrom is leaving her mark on this world and it's amazing to watch her do it.

"
CHIP GAINES / Co-Founder of Magnolia Network
I've been working on my book for quite sometime and Book Pop Workshop is definitely the course I needed to find an agent and take this book to the finish line! She has divided the writing journey into clear and concise blocks that each provides actionable items. These questions and suggestions help us dig out what it is that we truly want to offer to the world.  Her own experience as an author allows all of us to save critical time from avoiding common pitfalls and helps to direct us straight to the 'goal-line'. If anyone is on the fence- this course is so clear, to the point and makes this whole publishing roller coaster seem manageable!
Kate Lacroix
Book Pop was just the course I needed to start tackling getting my book published- and not just written!  I loved the interview with Jess's editor!  The modules on crafting a book proposal and finding an agent were super helpful!  I've already implemented one suggestion and am actually looking forward to creating the proposal now.  The proposal check-list is REALLY helpful! Book Pop also takes you through articulating your story and big ideal, outlining your book, and writing enough of it to start crafting the proposal!  Thanks, Jess!
Robyn Gobbel
I wish I had had this course available when I was writing my first book. Jess has created a practical course with easy-to-follow steps. She breaks down the writing process into manageable chunks, discusses finding a literary agent, and the pros and cons of traditional publishing versus self-publishing. She openly shares her first-hand knowledge and experience with writing non-fiction. I feel confident that anyone can follow in her footsteps and create my own story with wisdom to share with others.
Selina Krinock
Wow! I am no newbie to online courses but what is new with this one is I don't fold my laundry, eat snacks, or scroll while learning! Nope = you will press pause every few minutes to jot down these amazing nuggets of wisdom & tips Jess is giving! You will never be bored- I made so many notes and with her downloads to take the "how" out- I am pumped to get this book finally out of my head and into the world! Finally a book writing course with some tangible tips that don't overwhelm but only get you buzzed to begin. In a world of google the how to's are out there for anything but this was like having coffee with a friend that WANTS you to get a book published and has all the tips to get you there. Just straight up author knowledge served with honesty and clarity. Book Pop gave me the jolt and confidence to stop being scared and make this book a reality. Thanks to this course, I'm excited to use all I've learned and finally make some magic happen.
Tara Slater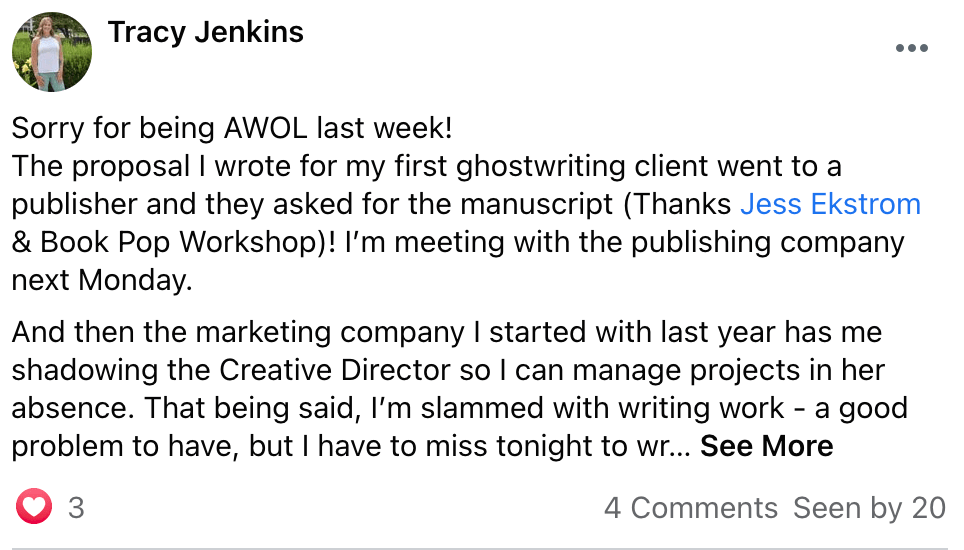 "

There was before Jess and there was after Jess. That's the notable difference she's made In my speaking career

"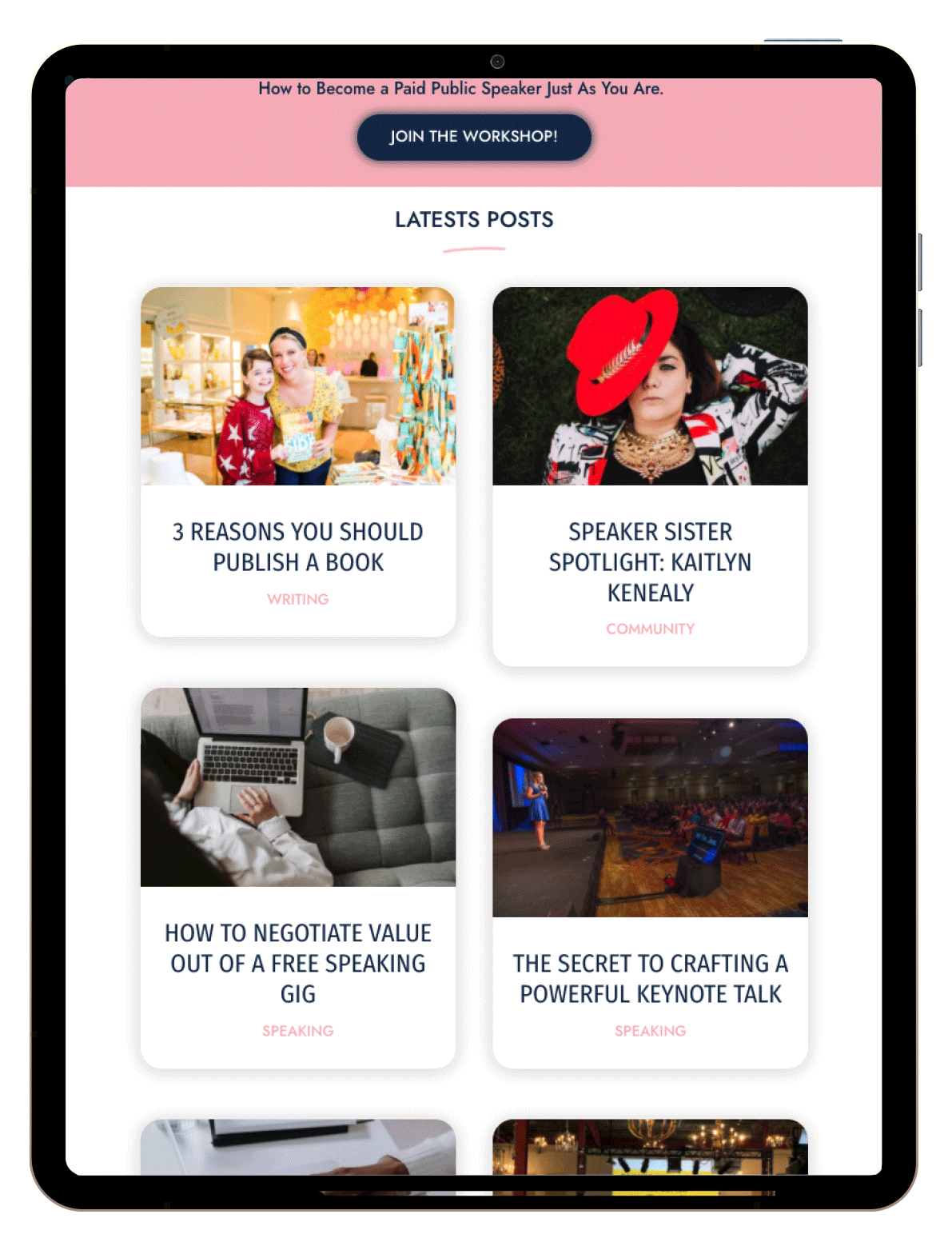 Subscribe to our weekly newsletter! 
Get open calls for speakers, event industry trends, thought leadership tips, and our favorite speaker products & services.