 THE WORLD NEEDS MORE FEMALE PUBLIC SPEAKERS

A new, diverse, and bright future for women keynote speakers starts here.
A LIVE 10-week speaker training program presented by professional speaker and published author Jess Ekstrom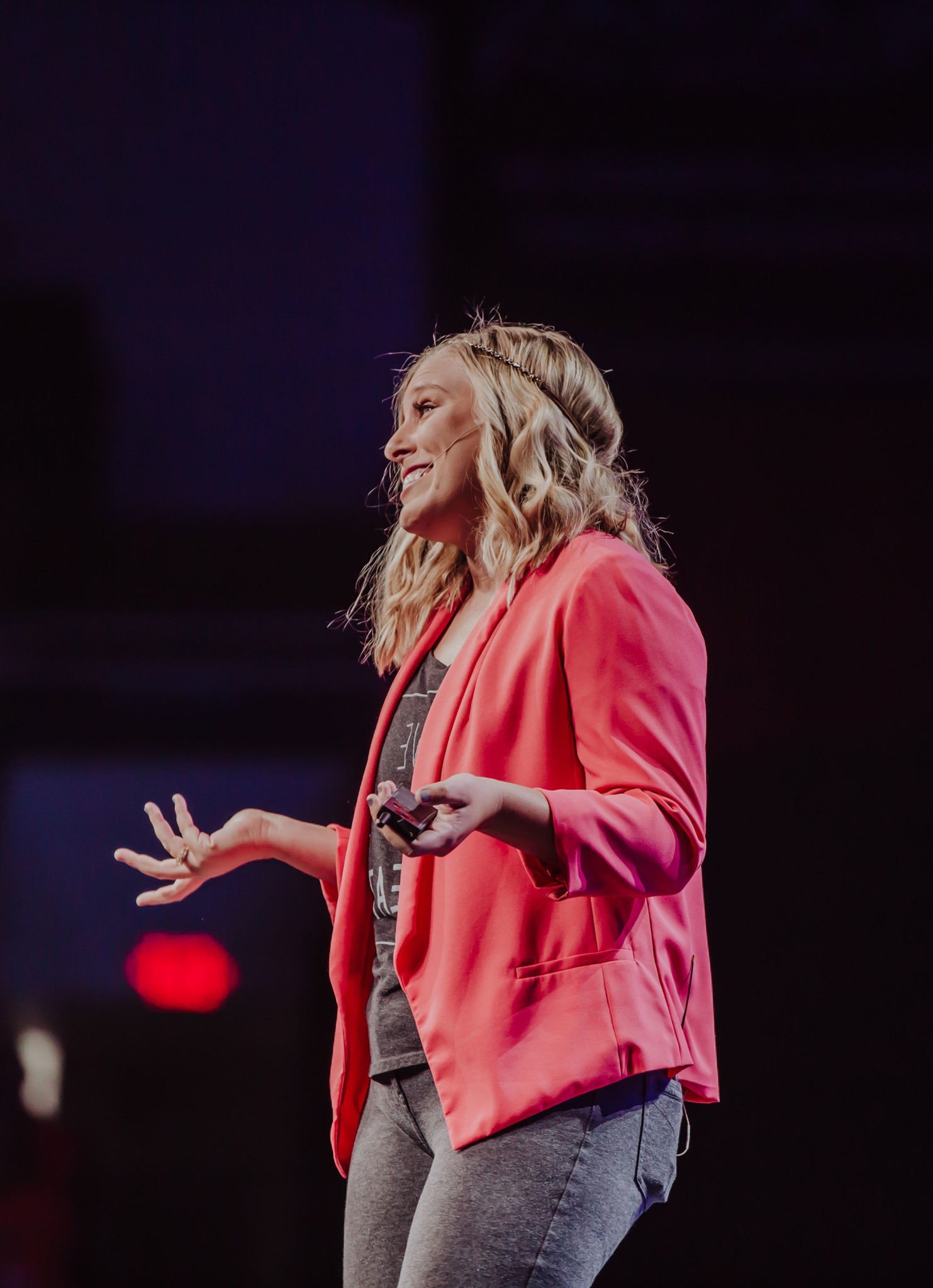 the world needs more female public speakers and authors…


Only 32% of professional public speakers are women, down from 33% in 2017 (*Bizzabo)


76% of people said they are more likely to attend a conference that features a woman as a keynote speaker or panelist


Only 25% of all technology keynote or stand alone public speakers are women (*Ensono 2018)


70% of women who have spoken on a panel report being the "lone woman" among participants
…and don't even get us started on the discrepancy of PAID public speaking engagements.
" Even though I have been speaking for years, I got so much out of this course. I joined because I wanted to discover the formula of how to get paid and booked consistently and they literally gave it to me. I feel more confident and more prepared to negotiate contracts and really get the gigs that I've always dreamed of. If you're hesitating with taking this course, just take it. Just go for it. Invest in yourself because it will pay off."
KARLA MERRELL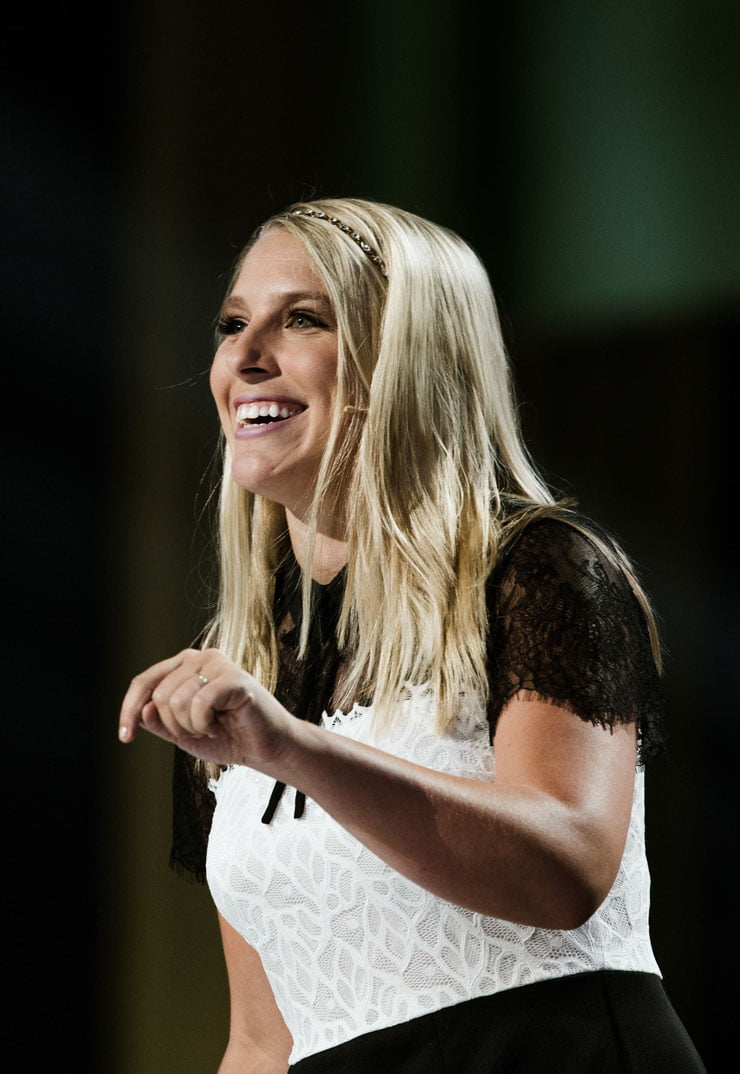 speaking engagements and events need more diverse voices…
We're on a mission to help more women become paid motivational speakers and keynote speakers. Mic Drop Academy is designed with women in mind, helping you land high-paying speaking engagements more consistently, for more money.
" After going through the program and looking at all my materials, I'm able to command more than double the fee I was getting before and it actually puts me into a different level of professional speakers than I was before. I am so so happy I made the leap and invested. So if you are on the fence, you want to take your speaking career to the next level, you want to have that kind of hands-on attention for really crafting the perfect keynote for the perfect audience and delivering the most insane transformation possible for people, definitely check out Mic Drop Academy, you will not be disappointed."
CORRIE LO

If you are ready to change the public speaking industry, you've come to the right place.

A live 10-week public speaker training program designed to get you booking more public speaking gigs for more MONEY, consistently.
10-WEEK SPEAKER TRAINING PROGRAM
Join us for live, intimate coaching sessions with Jess and her team of public speaking industry experts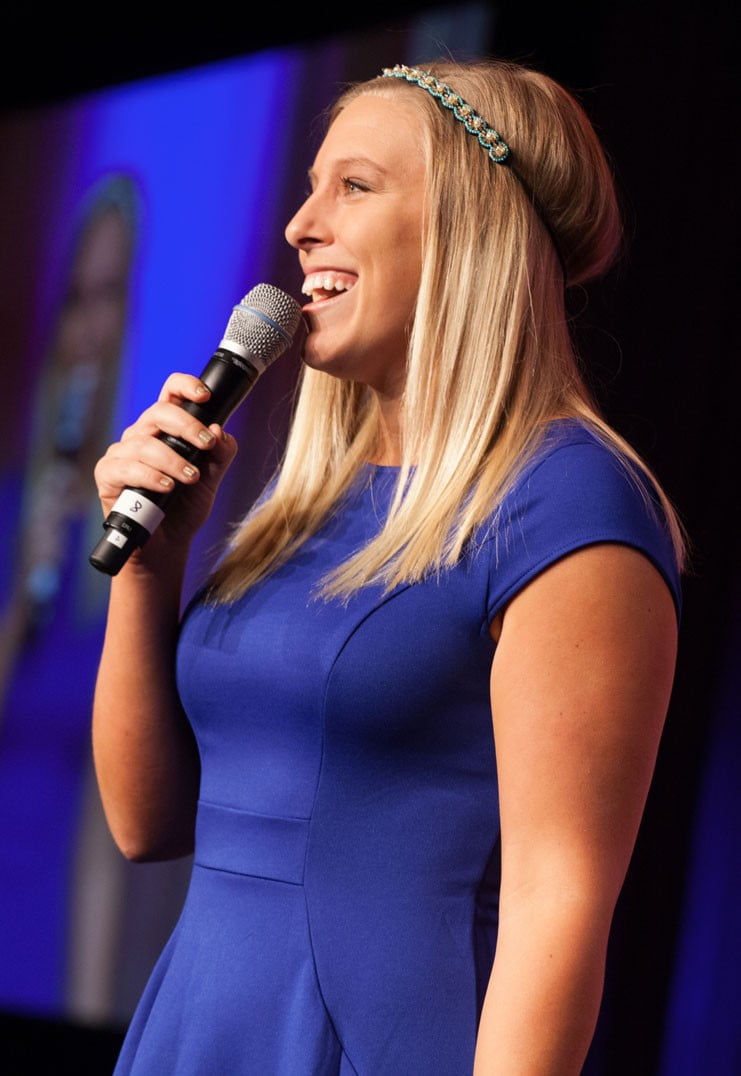 " It's not just what you get from Jess, Kristine, and Michelle. It is the camaraderie and the networking that you get from the amazing women that are in your class. They have all of the tools, they give you everything you need and all the support you need to really get out there and start being a paid, successful speaker."
JILL ANDERSEN
what you'll get after 10 weeks:

N

10 weeks of speaker training and LIVE Zoom group coaching sessions

N

3 one-on-one Zoom coaching sessions with public speaking experts Jess, Kristine, & Michelle

N

100 speaking engagement leads custom to your industry/ideal audience

N

Bonus sessions with subject matter experts

N

A tight group of #SpeakerSisters for future feedback and speaking gig referrals
N

A high-value keynote talk

N

Your "up-leveled" slide deck

N

Your speaker press kit

N

Your "About Me" page

N

Speaker sales scripts for no guesswork

N

Your speaker marketing game plan to start booking more speaking gigs for more 💰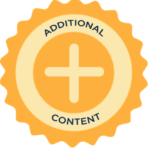 

A speaker website optimized for bookings



A solution to make your speaker website a 100% ADA compliant and digitally inclusive



A speaker demo reel
" I have left this program with tangible tools on what to do next, an entire list of contacts and events that I can actually speak at, and just so many connections and contacts. It has entirely changed my public speaking business. I'm blown away, it was the greatest investment I made this year."
ASHTON WHITMOYER-OBER
My first public speaking gig was for a slice of pizza and now I'm a 7-figure keynote speaker & author.
Everything I create is to help you tell & sell your story…so you can make a living and make a difference at the same time. Let me be straight with you – I'm not that perfectly filtered influencer on the internet that promises you the world and doesn't follow through after that credit card is swiped.
My mission at Mic Drop Workshop is to guarantee you two things
Enough about my story, let's help you monetize your story by becoming a paid keynote speaker and published author!
meet the mic drop academy team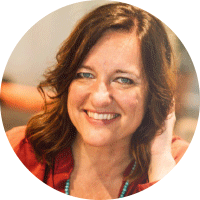 Hi, I'm Kristine! I'm Jess's CMO. As a woman speaker, your story matters now more than ever! You started your public speaking career because you want to help others and now, you would like the tools to tell & sell your story. You don't have to do this alone. I'm here to help. I came from a successful corporate marketing career where I've helped fuel the growth of household brands across the globe. Now, I'm here to help you grow your speaking business with great marketing and craft your personal brand as a paid public speaker. Your story matters and I'm here to help you tell it.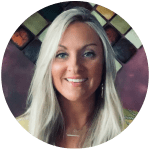 Hi, I'm Michelle! I'm Jess's booking manager. I've been a booking manager & speaking consultant for over 20 years. I've helped public speakers build their business and bring their message to hundreds of stages. I pride myself on being able to open doors for female public speakers to new industries/events as well as building & managing pipelines.My favorite part of being a booking manager is building long lasting relationships not only with my speakers, but with clients, so they can maximize their goals & impact as many people as possible through their mission and message.
" I knew the fun side of speaking, what I didn't know was the business side of speaking and that is where Mic Drop Academy dives way deep. I figured out how much to charge, who to pitch to, where I should be speaking, who my audiences are, how to nail my niche, all of those things. It was 8 weeks, such a great investment. I know for a fact that I'll make that investment up because I'm charging more than I have and I'm pitching to the right people."
KATIE QUESADA
THERE IS NO COST TO APPLY TO MIC DROP ACADEMY.
You have nothing to lose and everything to GAIN.
We are here to help you book more speaking gigs for more hear what women are saying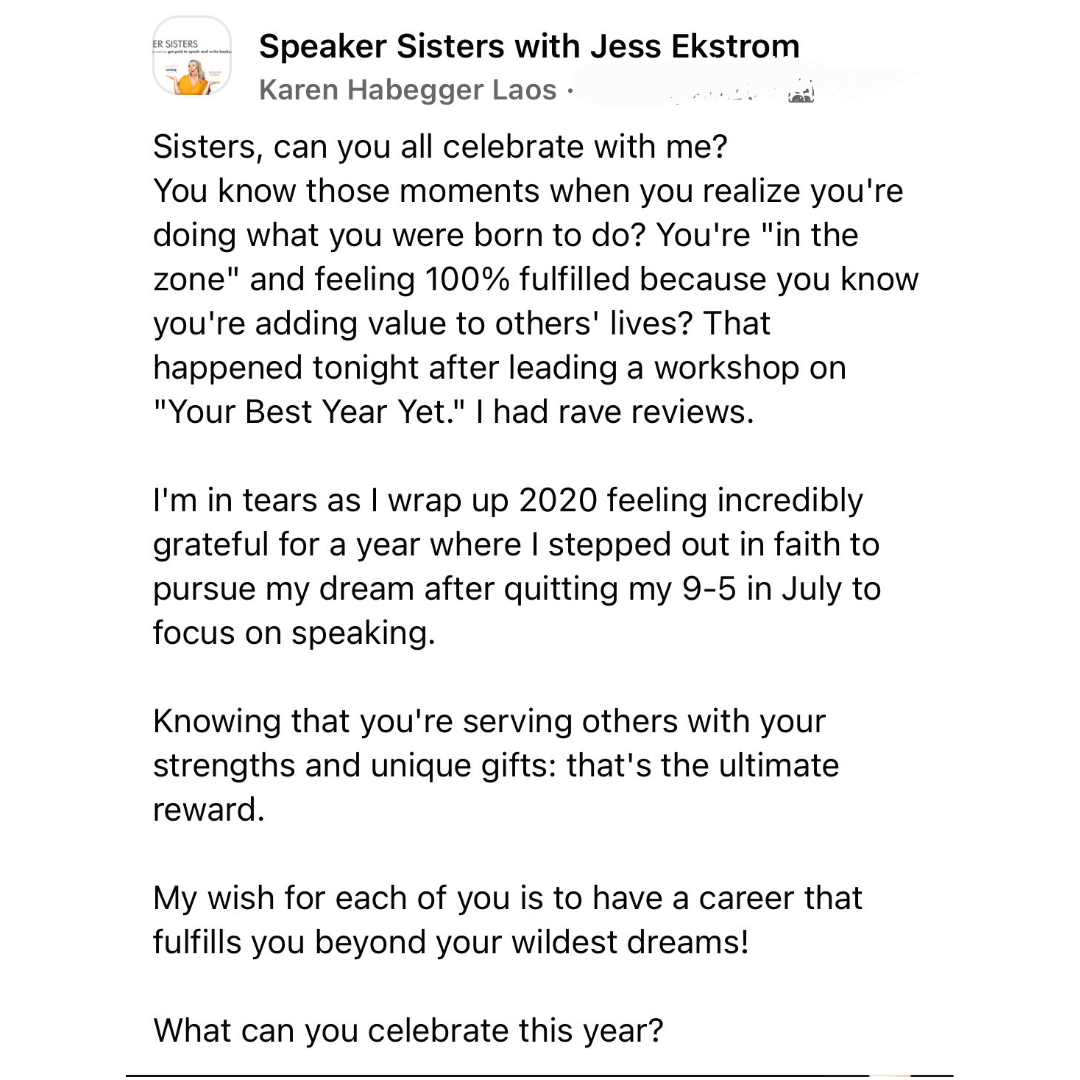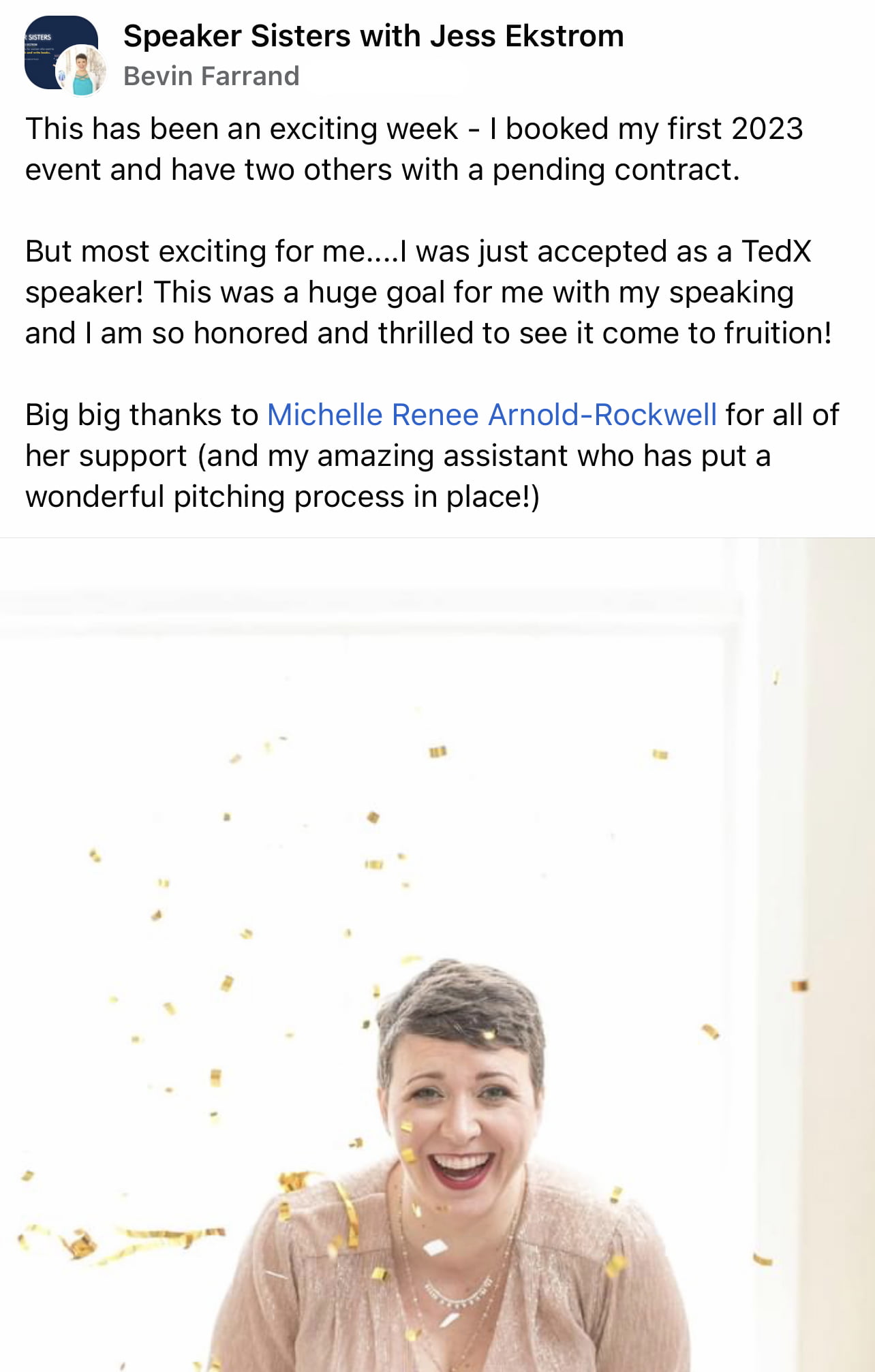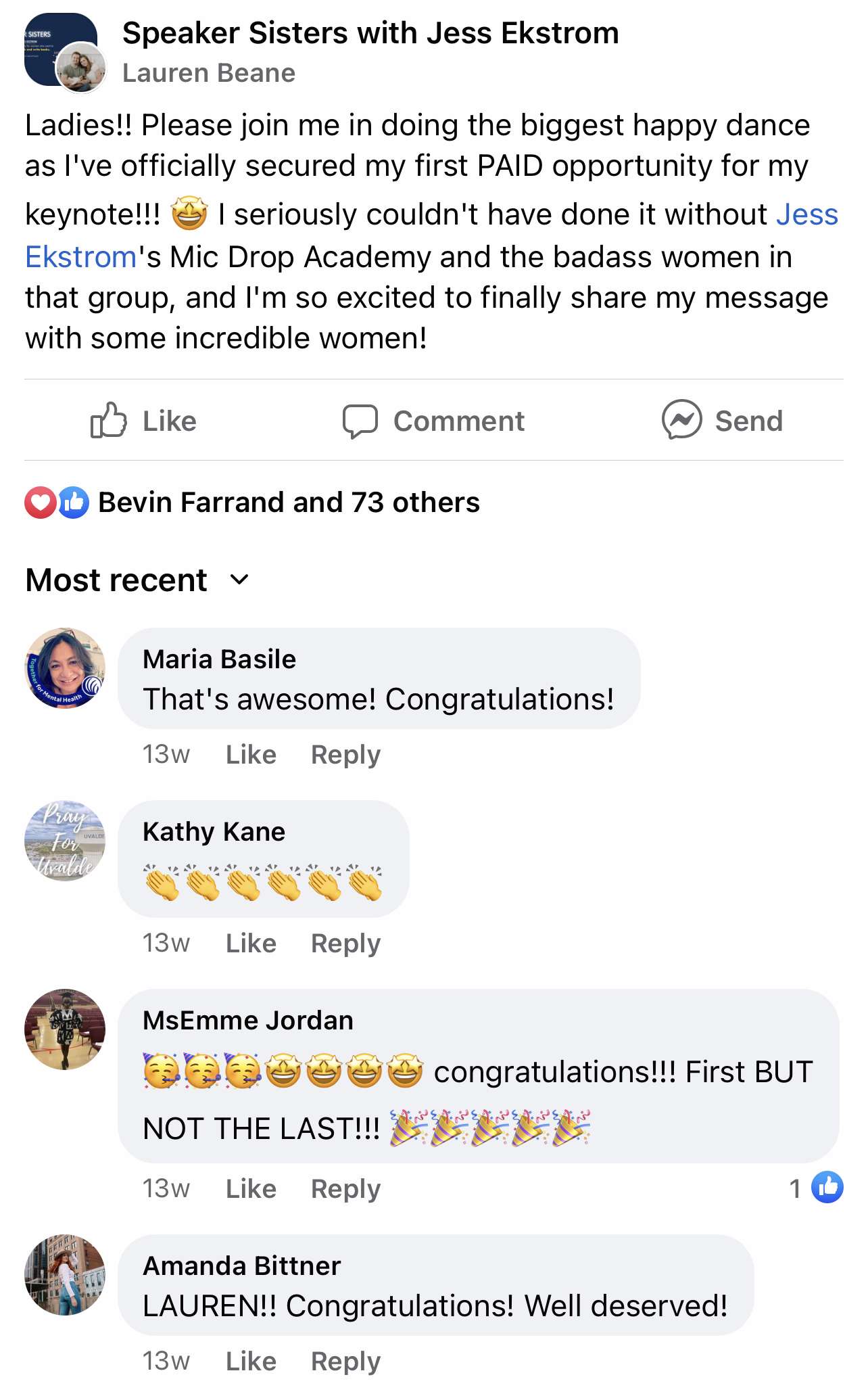 Mic Drop Academy is everything I wanted and needed in a speaking course. I'd followed Jess on Instagram for years and jumped at the chance to learn from her LIVE. The incredible trifecta of Jess, her VP of Marketing and Booking Agent delivered a course that not only elevated my keynote, but gave me detailed turn-key tools to build a speaking business. Fear and disorganization have been replaced by excitement, confidence and a clear plan. Thanks to Mic Drop, I am finally prepared to get the gig that puts me on stage where I belong.
Jill Andersen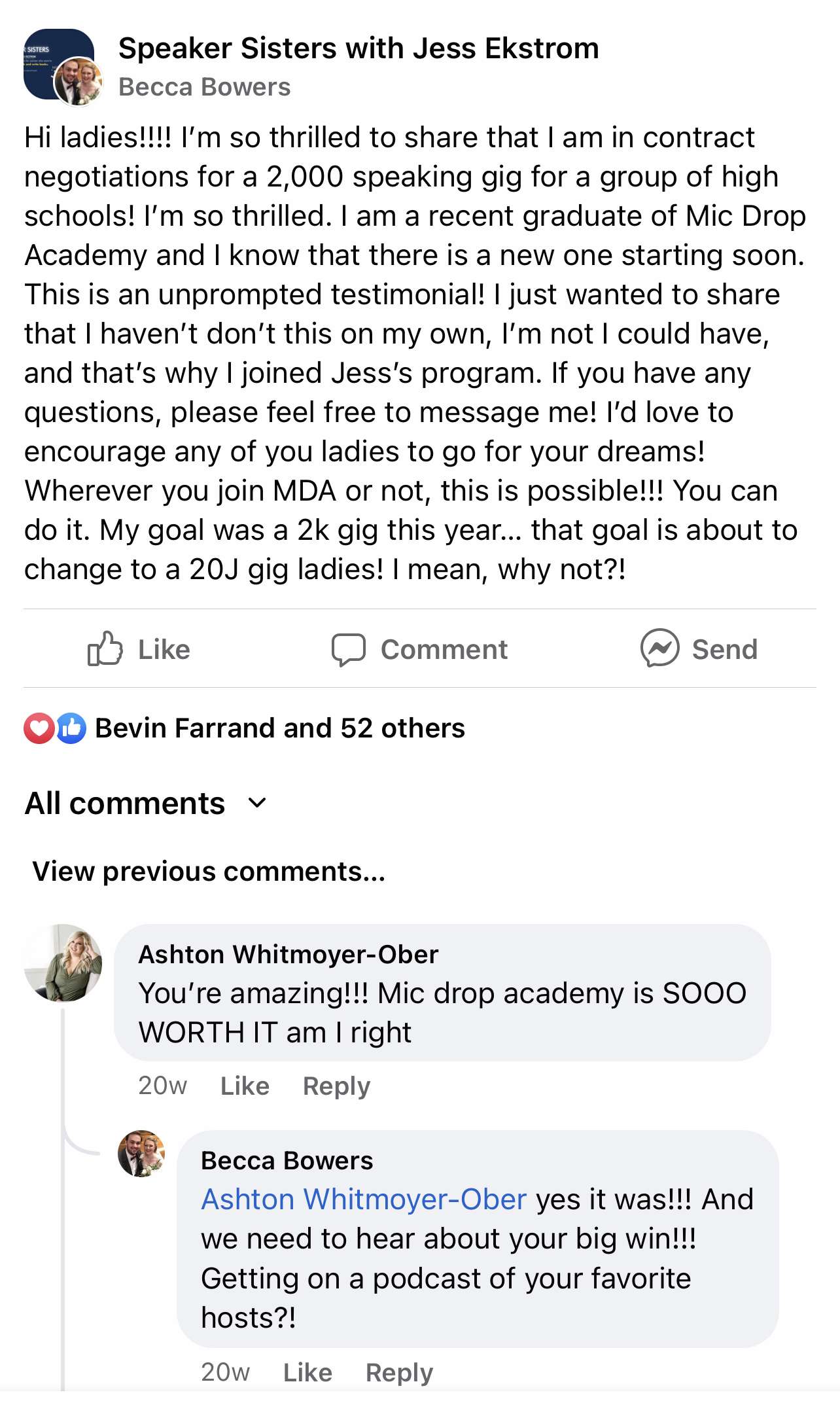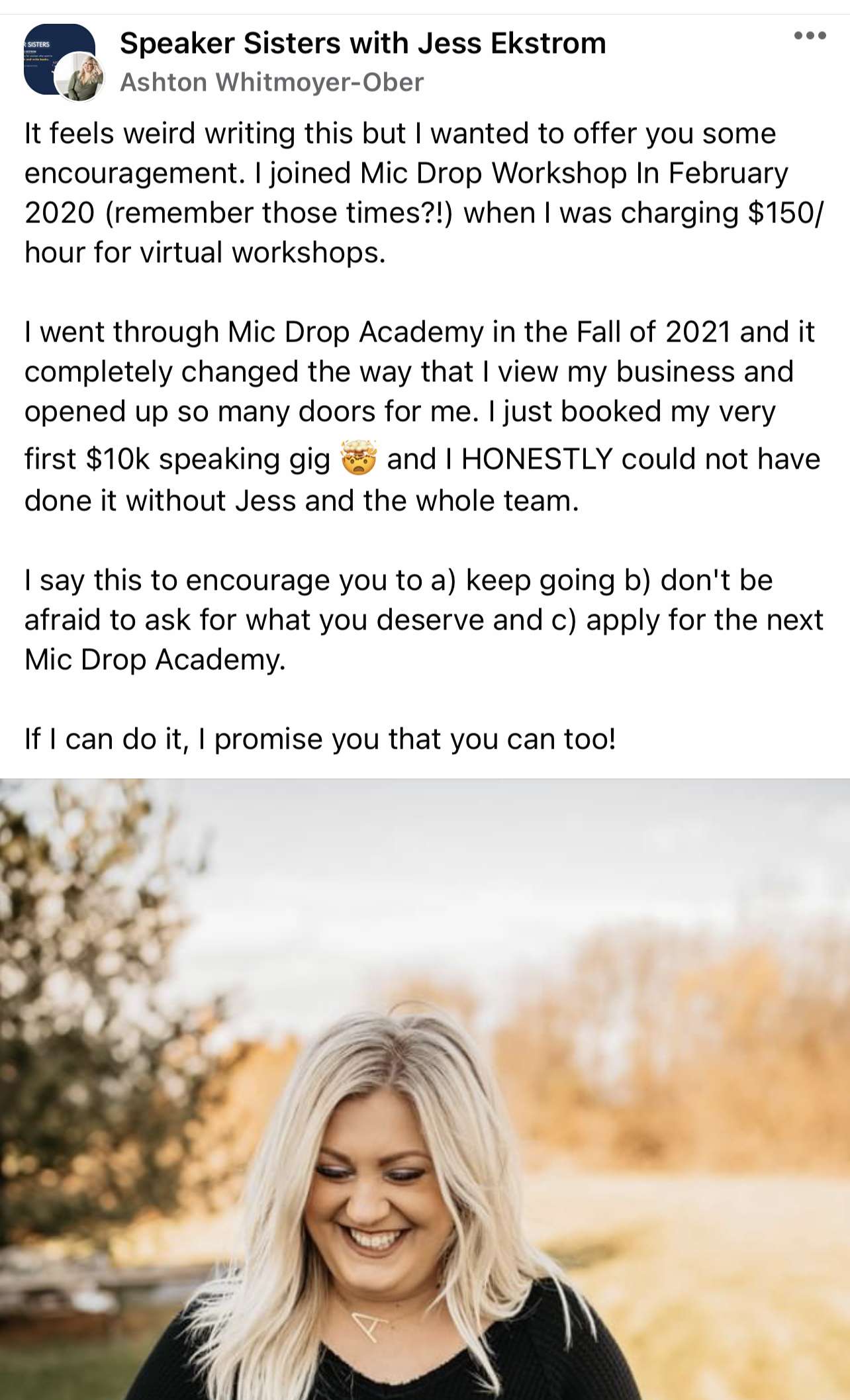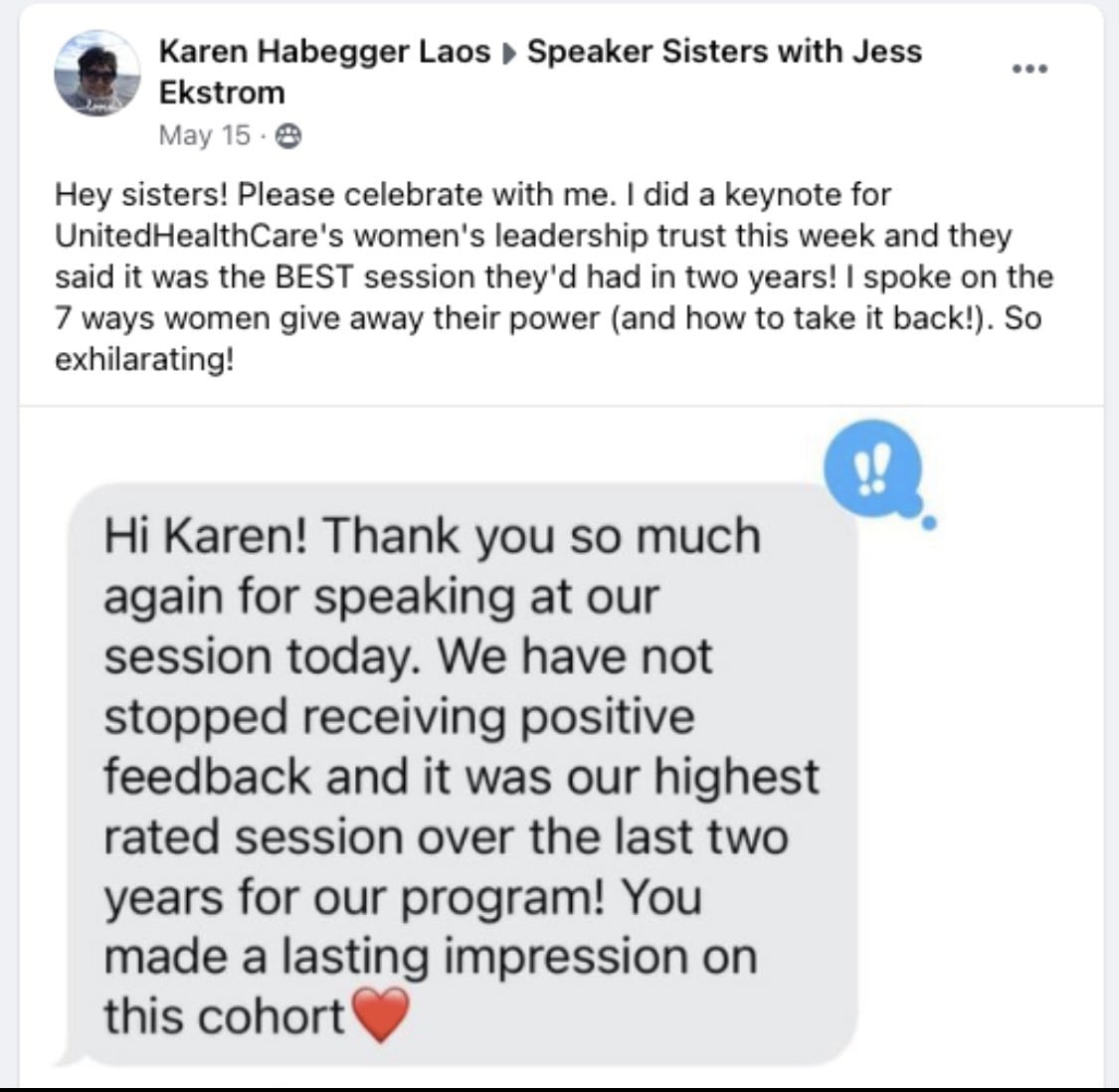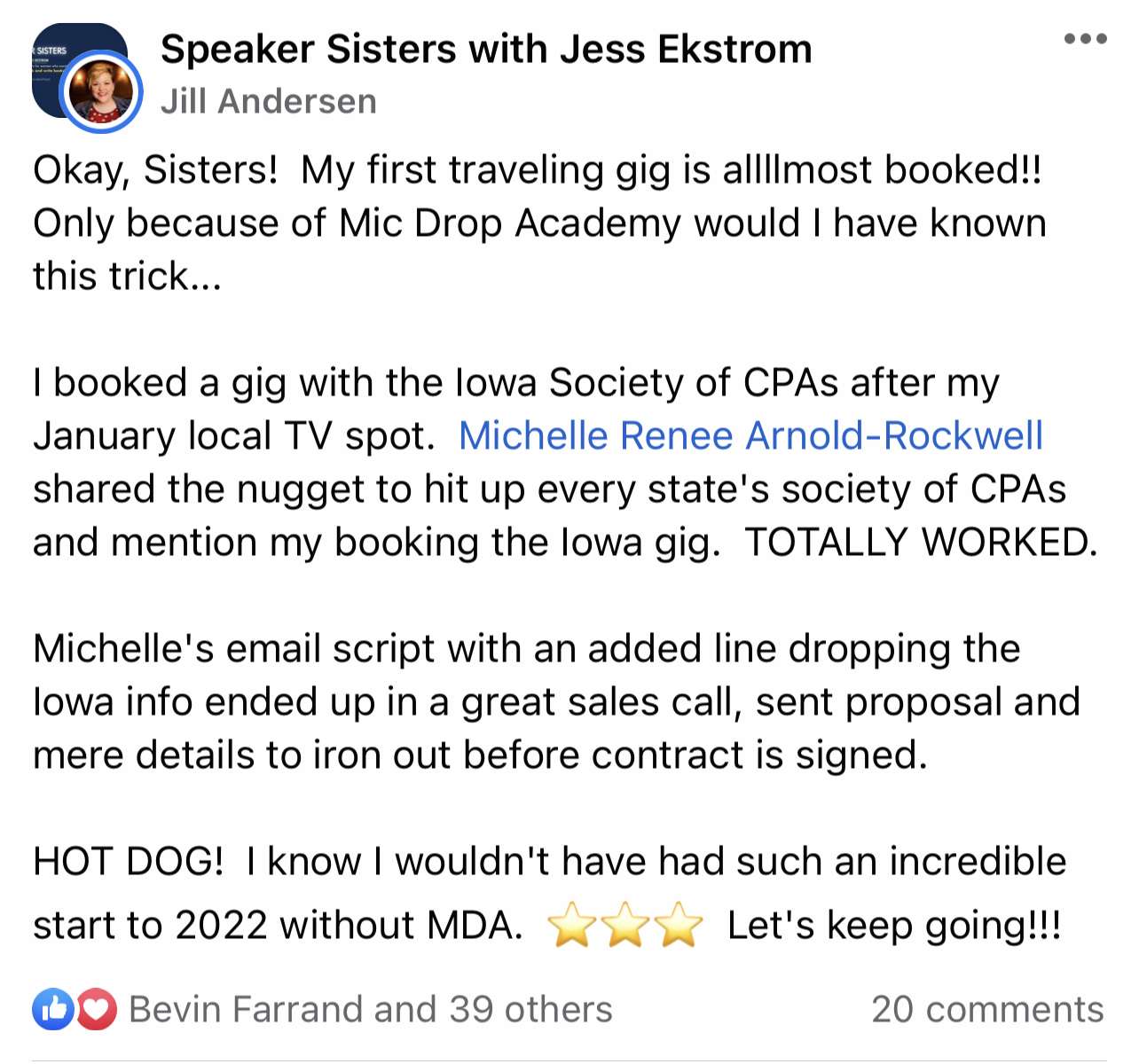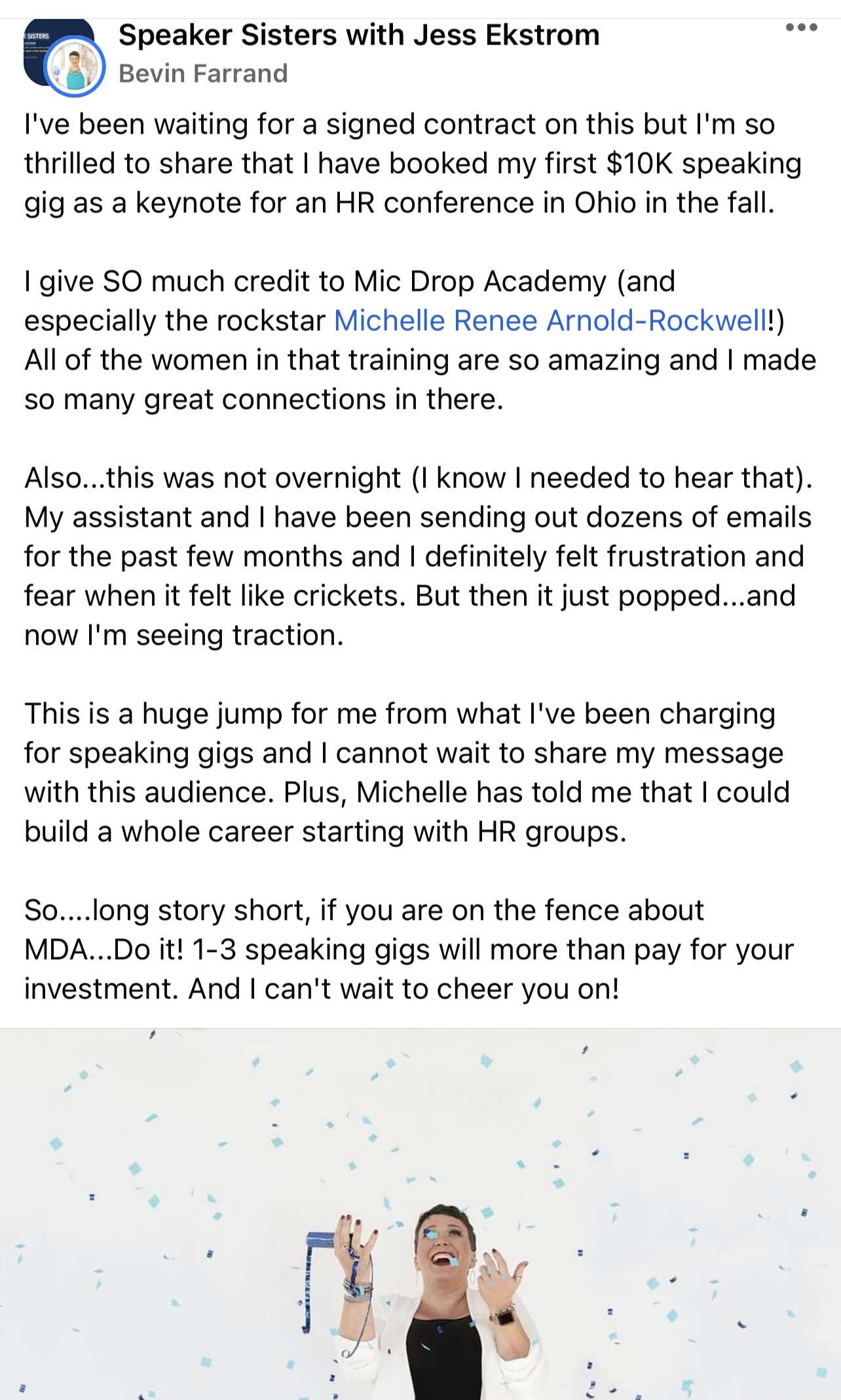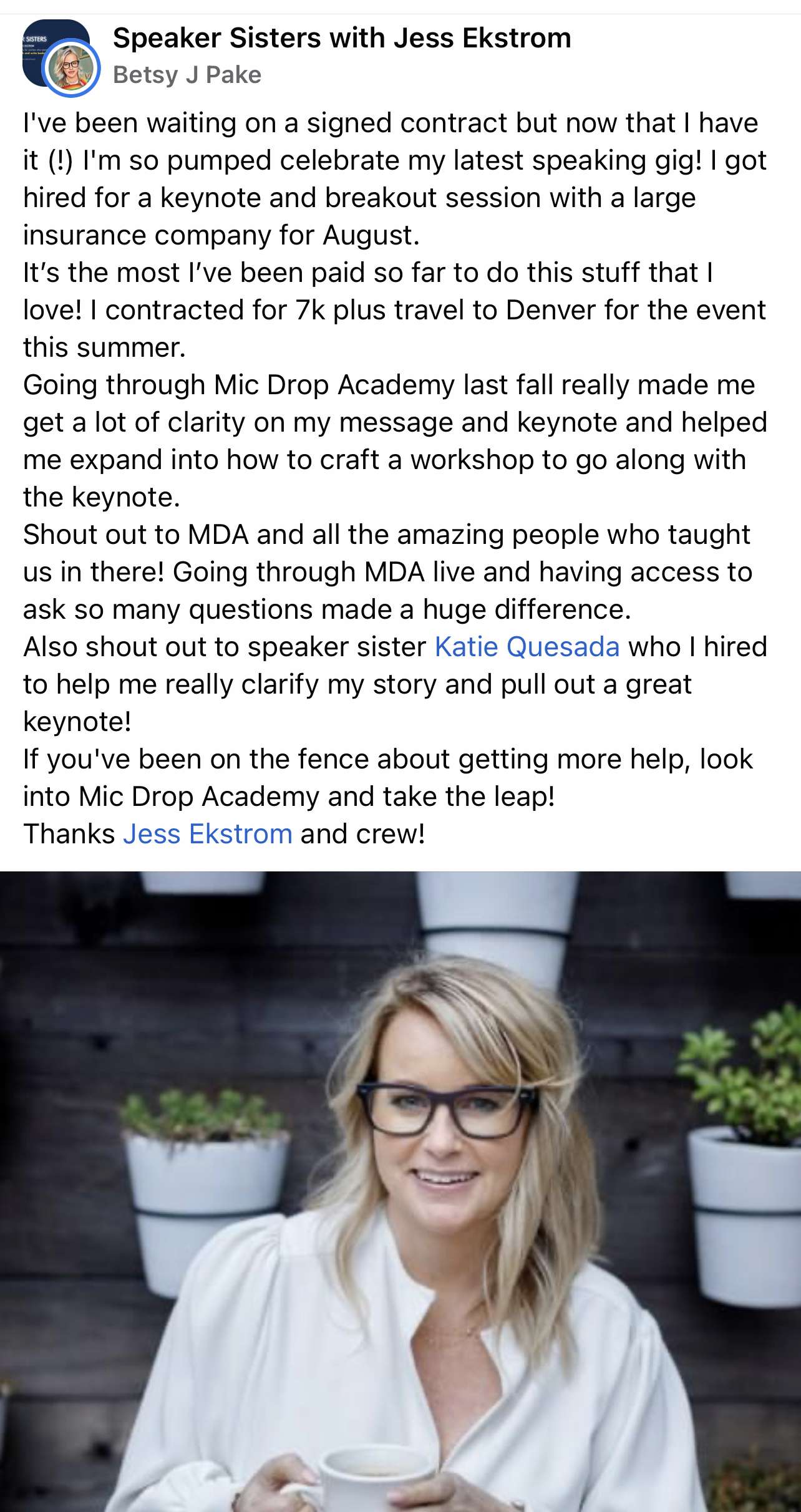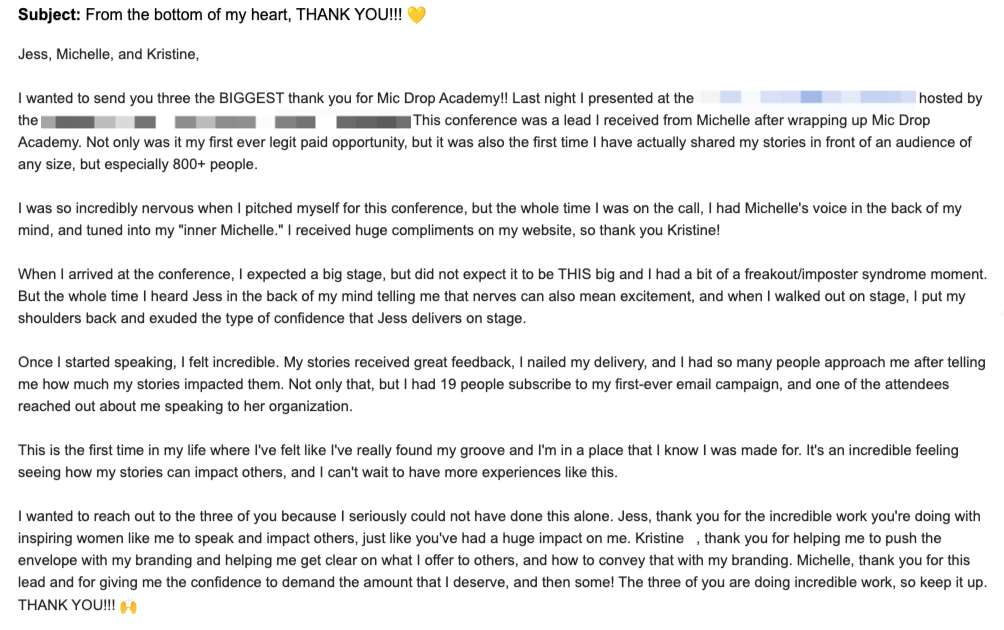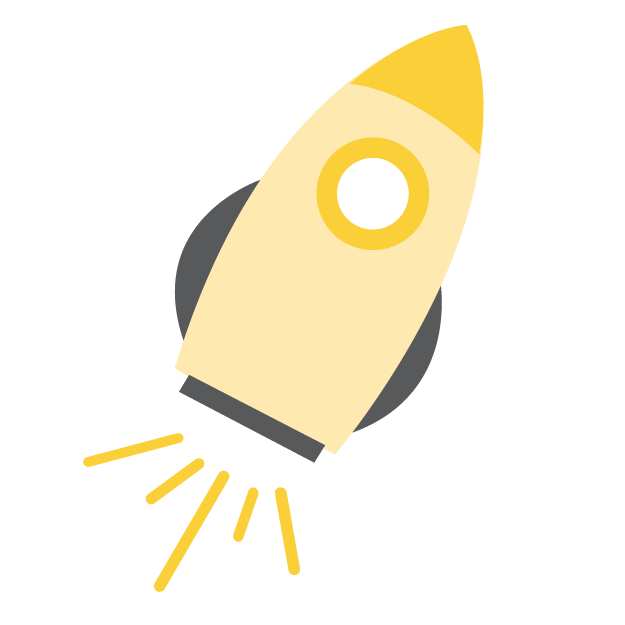 We'll meet for our group coaching session every Wednesday at 7–9pm EST.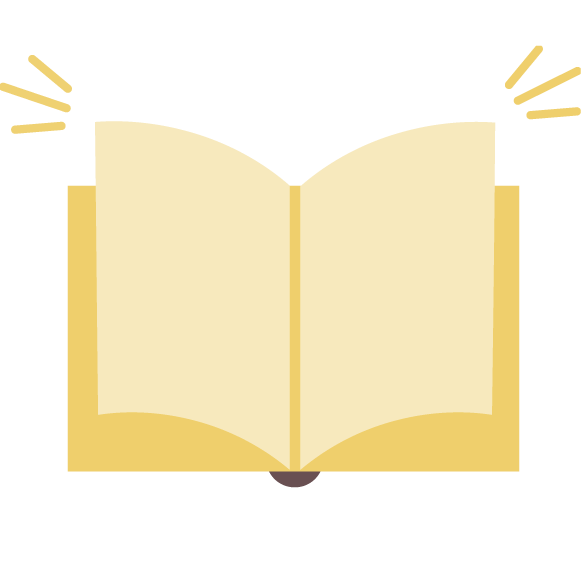 Homework to Stay on Track
Each week you'll have homework to complete by the next session to ensure you're staying on track. We will mail you a workbook so that all of your homework is in one place!

Pair up with a
Speaker Sister
Meet a new Speaker Sister each week – during a Zoom coffee – date where you can practice your talk, share tips, refer speaking gigs and more.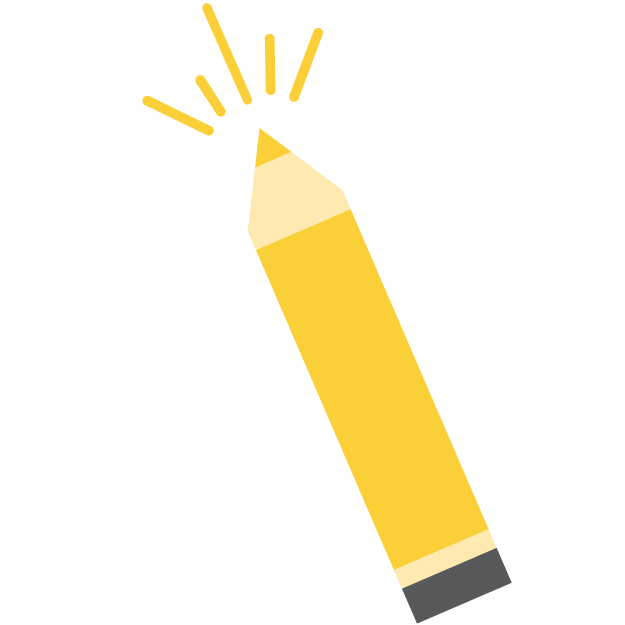 One-On-One Coaching Sessions
Throughout the Mic Drop Academy, you will have three, 30-minute, one-on-one coaching sessions: one with Jess, one with Kristine, and one with Michelle.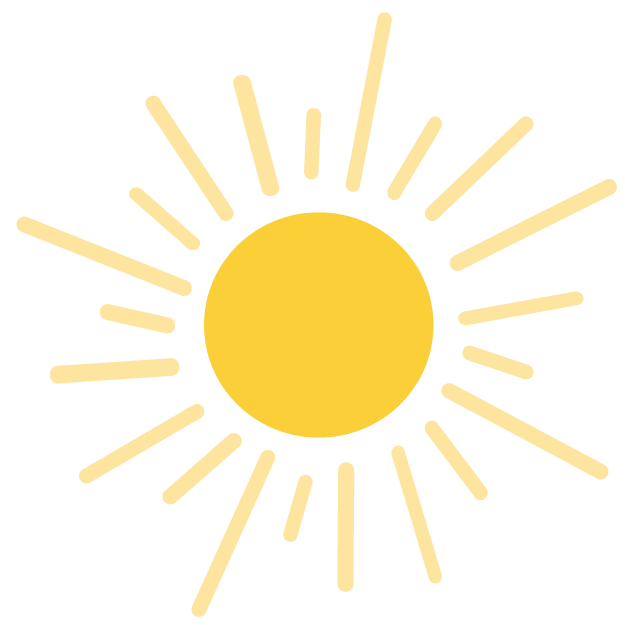 During the 10 weeks, you'll be in a closed community with the other speakers and coaches in the program so you can communicate along the way.
All group sessions are recorded if you can't make them live!
Get your questions answered here
how do I apply for mic drop academy?
 Just click this link to apply. You will be directed to the application form and it takes less than 3 minutes to fill out. After you submit your application, you will be contacted by Michelle (Jess's booking manager!). She will learn about your speaking goals and determine if Mic Drop Academy is a good fit for you. Our goal is to help every student book more speaking gigs for more money! There is no risk to apply, so be sure to fill out your application today.
When is Mic Drop Academy?
Mic Drop Academy is a live 10-week speaker coaching program and community to help women speakers book more speaking gigs for more money. We host a live Zoom session, each week, led by Jess and her team of speaking industry coaches. These are intimate, small group coaching sessions where you have the opportunity to ask questions and interact directly with the coaches and your fellow Speaker Sisters. Can't make one of the live sessions? No problem. All sessions will be recorded and provided to you.
When are applications due?
All Fall applications must be submitted by February 20th, 2023. You will be contacted by Michelle, Jess's booking manager, to discuss if Mic Drop Academy is a good fit for you.  
How much does it cost to attend Mic Drop Academy?
Growing your speaking business is important to you and it requires a financial investment. We are here to help you book more speaking engagements for more money, consistently. By filling out an application and meeting with Michelle, together, we can determine if Mic Drop Academy is a good fit.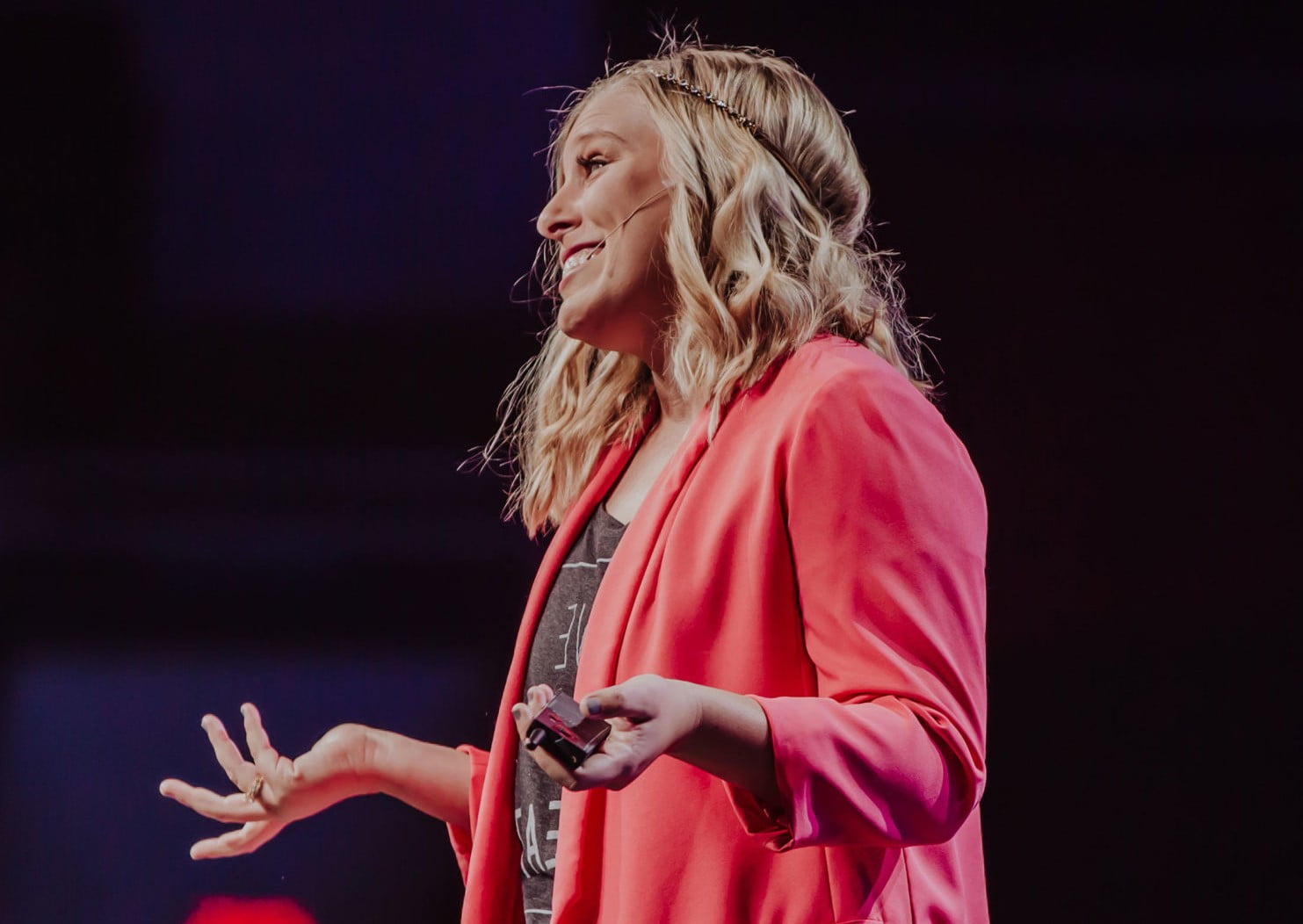 The most valuable product you can sell is the story you already have.

After I released my book… I got more speaking engagement requests, I could charge higher rates, I got more press and podcast requests, my social media audience grew, I got verified on my social channels, but most importantly…
I was able to tell my story in a way that helps people through their story. I want to help you do the same thing.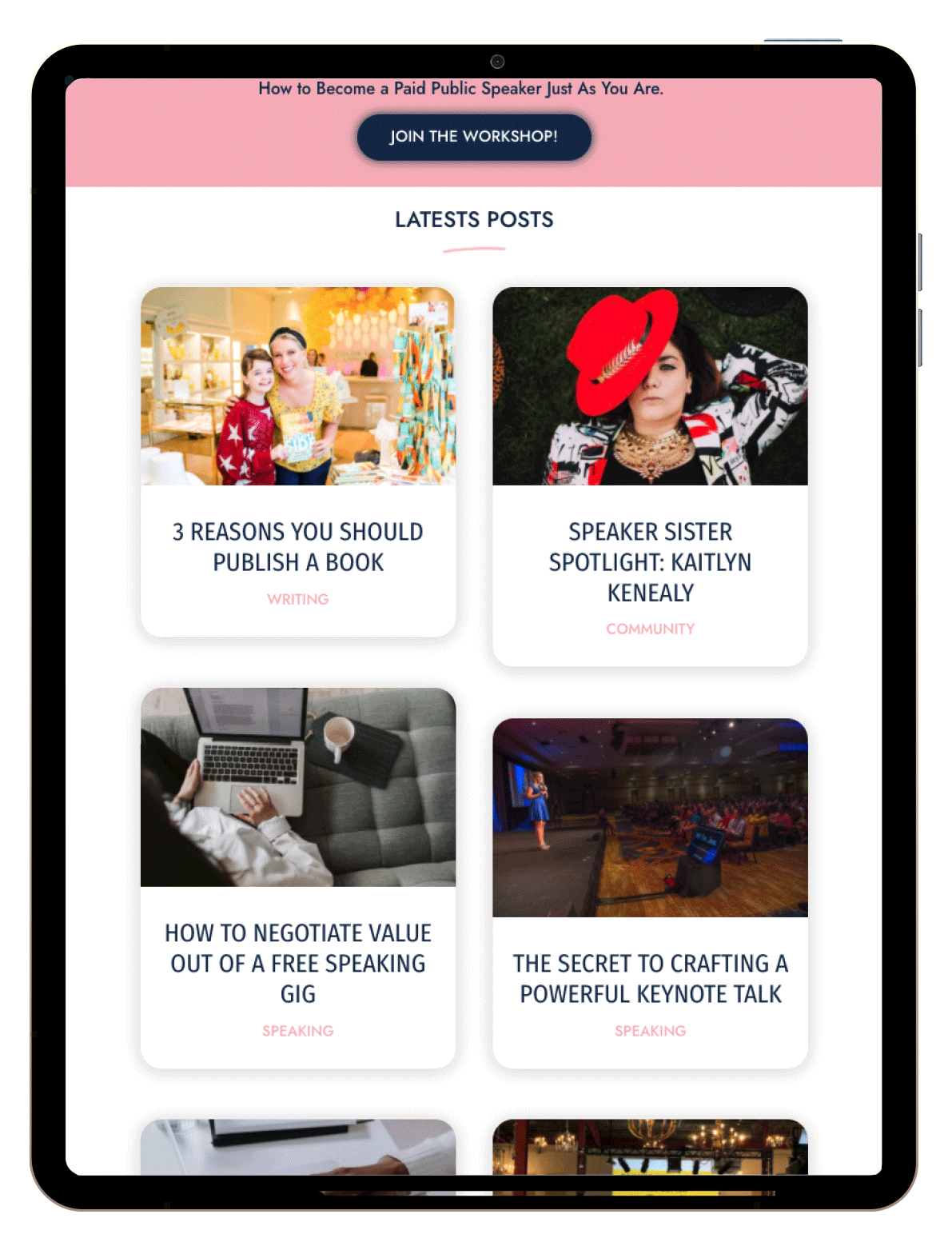 Subscribe to our weekly newsletter! 
Get open calls for speakers, event industry trends, thought leadership tips, and our favorite speaker products & services.