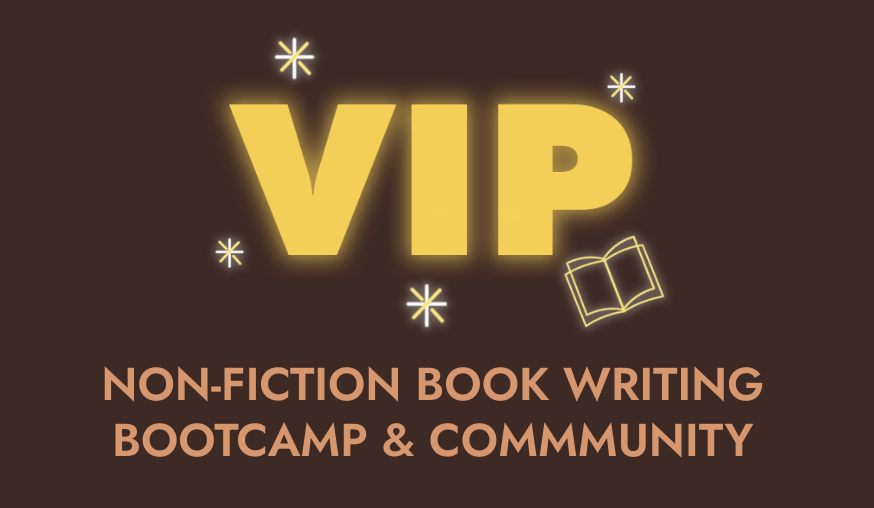 VIP 5-Day Non-Fiction Book Writing Bootcamp & Community w/Jess Ekstrom
Join me for my 5-Day Non-fiction Book Writing Bootcamp & Community PLUS VIP EXPERIENCE
Learn the most up-to-date tips on how to get your non-fiction book published and on shelves.
Includes everything in the bootcamp PLUS:
✨ Lifetime access to session replays
✨ Post-Bootcamp group call with Jess for extra support & feedback
✨ Access to the digital Write the Dang Book Conference including EXCLUSIVE INTERVIEWS with AUTHORS and a HARPER COLLINS EDITOR on how to get your book published
All bootcamp sessions will take place live in a private Facebook group. Sessions will last 30-60 minutes. Replays will be available for viewing inside the group until Friday, July 28.
What's included in my Book Writing Bootcamp & Community:
Day 1 – Thursday, July 13th at 12pm EST: Decide what you want to be known for
Day 2 – Friday, July 14th at 12pm EST: Determine the audience you will serve
July 15th – July 16th – We take a break for the weekend!
Day 3 – Monday, July 17th at 12pm EST: Land your book title and book overview
Day 4 – Tuesday, July 18th at 12pm EST: Choose your book plan: self- publish or traditional
Day 5 – Wednesday, July 19th at 12pm EST: 3 Secrets to get your book published
🚀 A FULL WEEK of community support from women thought leaders, speakers, and authors just like you
👊 Q&A support from me and my team – we are here to help you get your book published and on shelves (fist emoji)
📒 A Bootcamp workbook to keep you accountable and progressing through the course.
🧰 Extra tips, tools & resources to make your publishing dream a reality