BOOK POP WORKSHOP COURSE & COMMUNITY
Course availability is extended through this weekend only!
BOOK POP WORKSHOP COURSE & COMMUNITY
Course availbility is extended through this weekend only!
N

Access to all Book Pop Workshop course materials

N

Access to the closed Speaker Sister Facebook Community for 1 year

N

Free Access to the Launch Your Book Course

N

Monthly Live Q&A with Jess! 🙋
SPEAK AND WRITE
COURSE BUNDLE
(a $5,897 value)
Full Course PLUS 👇
N

Mic Drop Workshop ($997 value)

N

Book Pop Workshop ($997 value)

N

Platformula Workshop ($750 value)

N

One Line Wonder Course ($35 value)

N

Launch Your Book Course ($350 value)

N

Host Your Own Virtual Event ($250 value)

N

LIFETIME Access to the Closed Speaker Sister Facebook Community ($2,500 value)

N

Live Q&A chat in Facebook group every month 🙋
I've been working on my book for quite sometime and Book Pop Workshop is definitely the course I needed to find an agent and take this book to the finish line! She has divided the writing journey into clear and concise blocks that each provides actionable items. These questions and suggestions help us dig out what it is that we truly want to offer to the world.  Her own experience as an author allows all of us to save critical time from avoiding common pitfalls and helps to direct us straight to the 'goal-line'. If anyone is on the fence- this course is so clear, to the point and makes this whole publishing roller coaster seem manageable!
Kate Lacroix
Book Pop was just the course I needed to start tackling getting my book published- and not just written!  I loved the interview with Jess's editor!  The modules on crafting a book proposal and finding an agent were super helpful!  I've already implemented one suggestion and am actually looking forward to creating the proposal now.  The proposal check-list is REALLY helpful! Book Pop also takes you through articulating your story and big ideal, outlining your book, and writing enough of it to start crafting the proposal!  Thanks, Jess!
Robyn Gobbel
I wish I had had this course available when I was writing my first book. Jess has created a practical course with easy-to-follow steps. She breaks down the writing process into manageable chunks, discusses finding a literary agent, and the pros and cons of traditional publishing versus self-publishing. She openly shares her first-hand knowledge and experience with writing non-fiction. I feel confident that anyone can follow in her footsteps and create my own story with wisdom to share with others.
Selina Krinock
Wow! I am no newbie to online courses but what is new with this one is I don't fold my laundry, eat snacks, or scroll while learning! Nope = you will press pause every few minutes to jot down these amazing nuggets of wisdom & tips Jess is giving! You will never be bored- I made so many notes and with her downloads to take the "how" out- I am pumped to get this book finally out of my head and into the world! Finally a book writing course with some tangible tips that don't overwhelm but only get you buzzed to begin. In a world of google the how to's are out there for anything but this was like having coffee with a friend that WANTS you to get a book published and has all the tips to get you there. Just straight up author knowledge served with honesty and clarity. Book Pop gave me the jolt and confidence to stop being scared and make this book a reality. Thanks to this course, I'm excited to use all I've learned and finally make some magic happen.
Tara Slater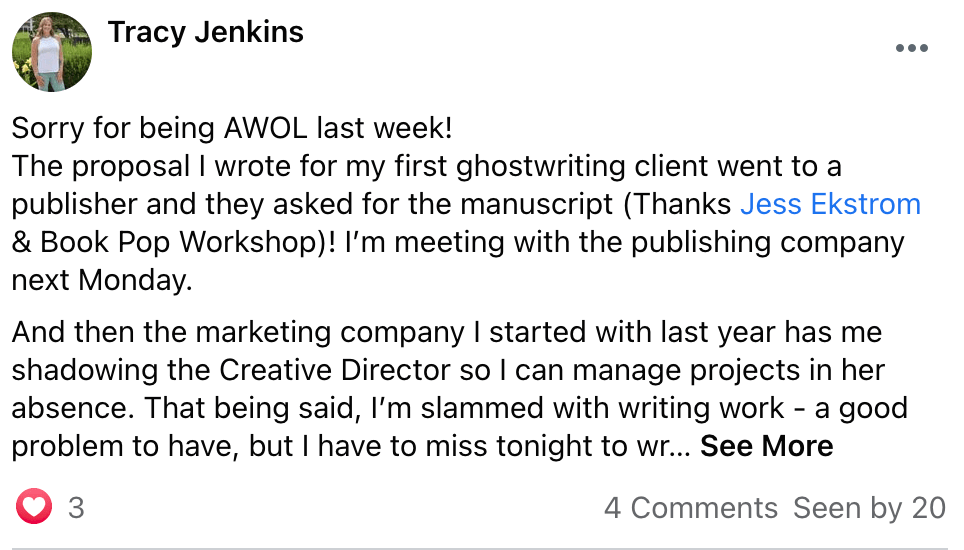 "Wow! I am no newbie to online courses but what is new with this one is I don't fold my laundry, eat snacks, or scroll while learning! Nope = you will press pause every few minutes to jot down these amazing nuggets of wisdom & tips Jess is giving! You will never be bored- I made so many notes and with her downloads to take the 'how' out- I am pumped to get this book finally out of my head and into the world! Finally a book writing course with some tangible tips that don't overwhelm but only get you buzzed to begin."